It is important to recognize the broader connections between economic stability, environmental sustainability, and resilience. Climate change and its associated impacts, such as extreme weather events, rising sea levels, and resource scarcity, among many others, can have substantial economic consequences, including increased costs, disruptions to supply chains, and decreased productivity at the national and local level. Multi-level collaboration and exchange are vital to help protect communities worldwide from these intensifying challenges.
Cities are many times at the forefront of these challenges, which has also enabled them to develop innovative, holistic, and multi-benefit solutions to face these shocks and stresses. National governments can learn a lot from cities and scale these solutions while building their national policies, and at the same time, cities can also leverage resources, partnerships, and expertise at the national level to accelerate their urban resilience initiatives.
Initiatives like the Inflation Reduction Act (IRA) in the USA help prove how beneficial and powerful multi-level collaboration can be in empowering cities to fight the climate crisis and to mitigate its effects on the most vulnerable communities.
France has started to set the path to build national resilience initiatives including formalizing a National Resilience Day in alignment with the International Day of Disaster Risk Reduction.  They have also recently renewed the French EcoNeighbourhood framework for inclusive and sustainable cities. This framework offers cities and their inhabitants the possibility of a way of life responding to the major challenges of climate, biodiversity and living together, relying on local resources.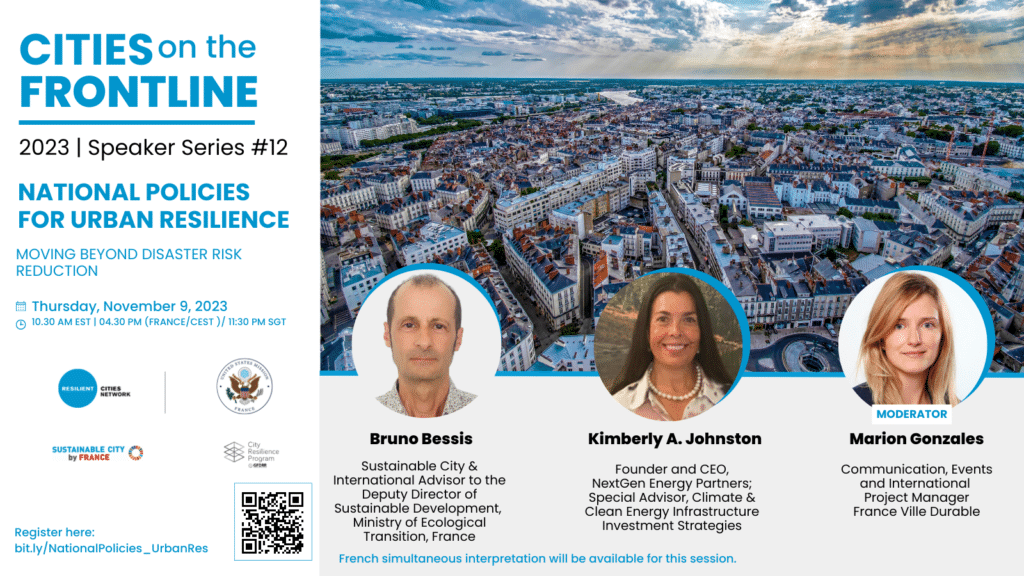 The twelth session of the Cities on the Frontline Speaker Series 2023, with the support of the Embassy of the United States of America, France, and in collaboration with partners France Villes et territoires Durables (Sustainable City by France) and the World Bank, will focus on "National Policies for Urban Resilience: Moving Beyond Disaster Risk Reduction".
We're bringing together Kimberly A. Johnston, Founder and CEO, NextGen Energy Partners; Special Advisor, Climate and Clean Energy Infrastructure Investment Strategies, to talk about the IRA in the context of urban resilience  in the USA and Bruno Bessis, Sustainable City and International Advisor to the Deputy Director of Sustainable Development, Ministry of Ecological Transition in France to talk about measures France has been taking in advancing resilience through social and ecological transformation.